The Devil's Pitchfork Society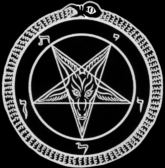 Links

Organizations
The First Church of Satan: This is THE Satanic movement of the new millennium!

Supplies
AzureGreen: A wonderful place to purchase supplies, books, and anything Satanic or Pagan related.
Satanic Supplies: A great place to purchase all your Satanic supplies!
Boji Stones: The Boji® Stone is the philosopher stone of the ancient Alchemy. This is a really cool item if you are into Shamanic work or are interested in Natural Magic. The CEO uses them!

Services
Gnosis Hosting: This is a Web hosting service that specializes in non-Christian and Adult sites! You will not have to worry about your content being critiqued. They are cheaper than you might imagine! Tell them "The Devil" sent you, and you will get good treatment!
Humor
Submit your favorite links. We are looking for some great sites that features the sacrilegious, politically incorrect, or whatever sparks controversy! Enter the Humor section.