The Devil's Pitchfork Society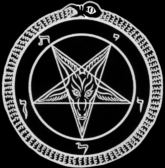 Welcome to Hell!
This Web site is a work in progress. An introduction to the content:

The CEO: Who is this handsome Devil? He is available to perform legal Satanic weddings.
FAQ: Frequently asked questions are placed here, along with our responses.
Projects: Current projects will be listed as they are pursued, such as Satanically sponsored events, activities, and community FYI's.
Blackened Bible: A fun little undertaking; we thought it would be fun to rewrite the Bible, just like all the others have done; this time, we will add some actual truth, with a twist of sarcasm and wit.
Links: An ongoing set of links. Please submit suggestions for inclusion.
Questions and Answers: Questions of a specific, non-generalized nature will be included here, along with our responses. This is a venue to allow for more personalized attention.